No one performs well when hungry. If your blood sugar is low, you are not working to your full potential and you are not being a fully effective employee. Therefore, by investing in a vending machine, your company is actually investing in office productivity. With access to a vending machine, employees may stay energized and focused on their work.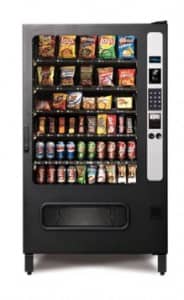 Having a snack and taking a mental break will make you less likely to snipe at other employees or get distracted by office drama. Food improves performance; if you are hungry you cannot concentrate and are generally more easily irritated and frustrated.
Instead of fighting over whose turn it is to make coffee or tea, have it readily available with a vending machine. Having the option of easily accessible food and drinks is a comforting thought to you if you are feeling overwhelmed by work and do not have time to take a full lunch break. Snack and drink vending machines let you recharge without getting too distracted from your work; you can take a five minute break and then come back to the task at hand, refreshed and refocused.
You can find reasonably priced vending machines for sale online. There are many different types of vending machines available, so choose the one that best suits your office.