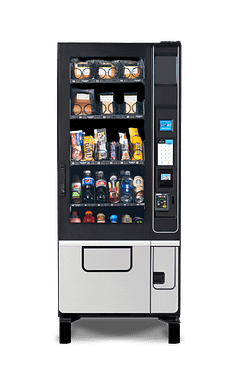 Following the success of the Evoke 5 and Evoke 6 machines, we are excited to expand the Evoke series. We have recently introduced five new models to the market: the Evoke Elevator, Evoke VT5, Evoke ST5, Evoke VT3 and Evoke ST3. Now that we have shared more about the Evoke Elevator and the Evoke ST5/VT5, let's discuss the Evoke Combo ST3/VT3. 
As with all Evoke combo models, the Evoke ST3/VT3 is health safety programmable by selection, range, or row.  Its soft coat glass provides a crisp merchandising experience through an unmatched level of transparency. An optional automatic controller/wiring harness kit allows heating of the soft coat glass, in order to eliminate condensation and fogging of the glass in high humidity locations.  The automatic controller complies with the applicable U.S. Department of Energy requirements and delivers energy savings by only activating when the humidity reaches a certain level and disengaging when the humidity returns to an optimal level.  
The Evoke ST3/VT3 has a small footprint, but it packs a punch with style and design. It offers up to 36 selections (capacity varies with tray configuration). The Evoke ST3/VT3 is available in both single temperature and variable temperature. The single temperature feature allows you to vend a variety of cold beverage products and refrigerated food, while the variable temperature allows you to vend refrigerated items and ambient snack items. 
As with all Evoke Series models, the Evoke ST3/VT3 comes with enhanced LED lighting and has a lumen output that is twice the output of its predecessor and significantly more than competitor models. It is also Americans with Disabilities Act (ADA) compliant and comes with iVend guaranteed product delivery. If a product does not vend correctly the first time, the customer will get their money back or is able to select another product selection. 
Another standard feature is the 3.5" full-color display and a standard Braille-identified keypad. This 3.5" display shows the customer's pricing information and nutritional information before making a purchase. The feature can be upgraded to a 7" full-color touchscreen display. This upgrade comes with a shopping cart mode, so three items can be purchased in one transaction, a browsing capability and static and video content opportunities. In addition to advertising on the display, you can add a graphic wrap to the entire machine to completely brand your Evoke ST3/VT3.
The Evoke ST3/VT3 comes standard with PayRange and cash and coin acceptance. PayRange is an app that allows users to pay directly from their mobile device, so payment limitations become a thing of the past. To upgrade this feature, all you have to do is add Greenlite Cashless, which allows you to also accept debit/credit cards and mobile wallets. 
Adding any of the Evoke merchandisers is a great way to revolutionize your vending business. To find out more about the Evoke ST3/VT3, or any other Evoke models, call us today at 1-800-247-8709.