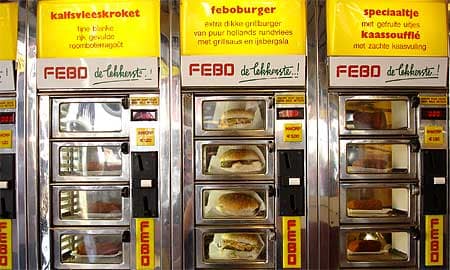 While the final Automats have come and gone in the United States, there remains a magical, wonderful place where a person can still find a snack vending machine they can literally walk into, put in a few coins and get themselves a nice, hot, snack.
This wonderful place is Amsterdam. And the walk-in snack vending machine is FEBO, the Last Surviving Automat.
Initially a bakery dubbed "Maison FEBO" after Ferdinand Bolstraat, FEBO (pronounced FAY-bo) is recognizable through its bright green, yellow and red signs, its patented Dutch slogan "De Lekkerste!" ("The tastiest!") and its gigantic snack vending machines.
Most FEBO shops do have a counter, which allows for the purchase of fresh French fries and hamburgers. However, the bulk of FEBOs business is brought in through its snack vending machines/automats, which feature cheese soufflés, frikandellen, hamburgers, and their specialty, krokets.
While anyone adventurous enough to eat something that has been sitting in a tiny, snack vending machine compartment for an undisclosed amount of time clearly is fearless, here's a list of some of the more popular krokets, so you do not embark on your dining experience completely blind:
Rundvleeskroket – beef
Bami – Indonesian inspired, containing chicken
Kalfskleekroket – veal
Speciaaltje – half ground beef, half ground pork
Satékroket – beef with spicy peanut sauce
Kaassoufflé – cheese
While the opportunity to use a walk-in snack and soda vending machine is undoubtedly a major draw, FEBO also is known for staying open later than any other food providers in Amsterdam. The FEBOs present in Rembrandtplein, Leidseplein, and the Red Light District are open till 3 AM on some nights, and 4 AM on others.