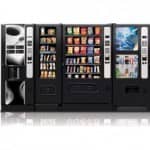 If you are a USelectIt customer or have browsed our expansive range of products before, you probably know by now you are guaranteed to find a top-quality vending machine to meet any kind of business needs. However, we care about way more than just providing you with the best machines. Through our VendNet company, we offer our customers parts, warranty information, tech support, and much more.
Let us say you just bought a great combination drink and snack vending machine, but it starts to act funny after a few weeks. Whether a portion of your machine is not vending properly or you are having power issues, you can call our toll-free technical support service at 888-836-3638 from 8 a.m. to 5 p.m. Central Time. If your problem requires in-person assistance, we have a vast network of over 435 authorized technicians throughout North America. If you want a quick fix or upgrade for your vending machine, we have a large catalog of vending parts, from fans and filters to coin mechs and compressors. VendNet also offers warranty details, machine instruction manuals, product resupply, and financing plans for those looking to buy a new machine.
As you can see, our services extend far beyond offering you the best drink and snack vending machines in the industry. Our vending machines are built to last and we want to be there every step of the way while your business grows.