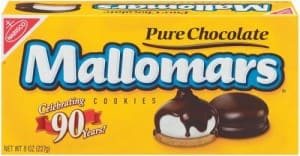 After having a recent craving for the deliciousness of Mallomars, I realized that this delectable treat should be inside of all snack vending machines. Why? Why not?! Mallomars are essentially a non-heated/melted S'mores. You have a graham cracker bottom, a marshmallow center, and chocolate right over the top. How wonderful is that? You get the same delicious taste, but without the mess. Of course, nothing beats a real S'mores.
But I would love to see these treats in tiny packets and readily available for 75 cents in snack vending machines. They could come in a little pack of 4 and it would be just enough to satisfy my marshmallow craving. But this idea got me thinking about other great snacks that should be in vending machines as well, such as Nilla Wafers and Ferrero Rocher chocolates. Okay, maybe the chocolates are a stretch, but Nilla Wafers are definitely doable.
Lastly, having tiny little jars of Nutella in a vending machine would just complete my life. It might also make me gain a lot of extra weight, but it would be a delicious process. Tiny jars might not work though, so instead, make a little packet that comes with graham crackers to dip in a little scoop of Nutella.
But alas, this happy day of good snacks will probably never come. I am left to dream.