Think that snack vending machines and drink vending machines are limited to potato chips and cokes? Think again! Here are 3 snack vending machines and drink vending machines that really push the envelope in terms of what's inside…
1)      Pizza Vending Machines (Italy) – With this strange snack vending machine, you can get a piping hot pizza with the push of a button. Yum? There are four varieties: Margherita, bacon, ham, or veggie, and you can watch the machine whip up the flour, water, tomato sauce, and toppings, wait three minutes, and bam—you got a pie. Way to go Italy. You've found a way to cheapen your trademark culinary item with a crappy vending machine.
2)      French Fry Vending Machines (Australia) – Not quite as gross as the pizza machine, but not much better, this machine spits out hot fries fully equipped with ketchup and salt. Maybe I'm just jealous America didn't think of this one first…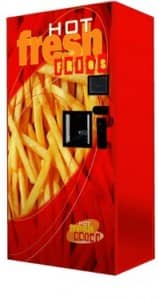 3)      Eggs (Japan) – I guess the rationale behind this one is convenience? You never know when you'll need some eggs. But wait? Japan has corner stores. And even if you're in the country, people either have their own chickens or their neighbor does… so I'm not really getting the appeal of these machines. Good in theory, I suppose.