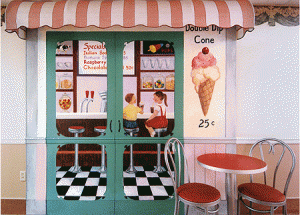 In the summer, there's no better sight than the sight of ice cream snack vending machines when you're wanting a treat. Why? Ice cream makes people happy, of course. It looks good, and tastes great.
When I was a teen, I worked in an ice cream parlor every summer, tirelessly scooping ice cream in my white apron and goofy hat. There were 32 flavors, and cappuccino, cookies and cream, strawberry delight, chocolate mint, and rum and raisin were my favorites. On the hottest days, I couldn't resist having an icy orange sorbet in my lunch break – it'd cool me down in an instant.
During those summers, I developed a special affinity with ice cream. I loved making hot fudge sundaes and ice cream sodas, handing them to customers, and seeing their smiles. I was great at offering recommendations. A customer wanted something fruity, subtle and creamy? Why, the passionfruit gelato, of course.
I love ice cream in all its forms; whether it's bought from an ice cream parlor, a grocery store, a neighborhood ice cream truck, snack vending machines, or served at a restaurant, ice cream is great. I make my original point again: ice cream makes people happy. So, go forth and eat it.