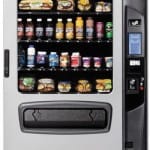 Vending machines are becoming more efficient and accommodating by the minute, and a recent news article from Genesee County, New York reveals that they have the potential to replace human food service entirely. According to TheDailyNewsOnline.com, the Genesee County Nursing Home will stop serving meals in its cafeteria in favor of food vending machines.
The administrator of the nursing home proposed the change in order to save money at the facility. The switch was made following a recommendation to do so by the county's Ways and Means committee. While traditional drink and snack vending machines cannot truly replace a cafeteria, modern machines that dispense full meals are an efficient alternative to a food staff. Morrison Food Services, the same company that served meals at the cafeteria, will now provide food for the vending machines.
This is quite an interesting switch for this type of facility, and a true testament to the ever-growing evolution of vending machines as full-on food dispensers. While places such as restaurants and diners will always require a real staff, businesses with cafeteria now have an alternative to hiring a food service group. If you are looking to provide this same type of convenience to your customer base, USelectIt has a variety of affordable food vending machines for sale right on our website.