Support Your Brand
Attracting consumers to the machine is a key to improving same-store sales.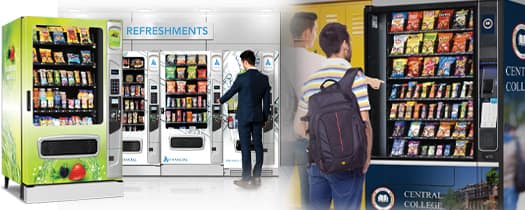 Engage consumers with a customized graphic design that is meaningful to their location and supports your brand.
Our marketing team is available to help you design the right look for your machines, or we can work with a design team of your choice. Our team can help create a concept to complement your existing company branding or an end location's décor. If you select this option, one of our team members will contact you to coordinate a meeting to get started.
When customizing your new USI machine(s),
we offer several options:

1. Choose a stock design
No Results Found
No Results Found
No Results Found
No Results Found
No Results Found
No Results Found
No Results Found
No Results Found
Reset Choices?

2. Work with USI's Graphic Design Team to create a custom design.
Our graphic design team will work with you to create a concept that complements your existing company branding or that of your end location. Contact us today to get started!

3. Supply your own design files.
If you wish to supply your own design files, our graphic design team will provide templates and instructions that you or your design firm can use for each graphic panel (bin decal, side decals, etc.). Contact your Regional Sales Representative for more information.
*Design Specifications
Please follow the following specifications for supplying your own logo or artwork:
Logo Specifications
Logos submitted should be in vector format (ai or eps files), but we will also accept pdf, eps, jpg or tiff formats if they are 300 dpi (dots per inch) resolution or higher. CMYK four color process.
Artwork Specifications
Artwork should be submitted as Adobe Illustrator files (ai) in 300-600 dpi and CMYK color format (not RGB). Vector art or high-resolution images (large format, 300 dpi) are required for digital printing. For all design and logo colors, please specify correct PMS/pantone numbers for us to match. Create your document to actual size, with the dimensions in inches. Embed all images and convert type to outlines, paths or curves.
Ready to Get Started?
Building your machine exactly how you would like it is easy with our Configurator tool. Plus, if you need a machine now, the Configurator tool shows our current stock of machines that are ready to be shipped out immediately!