Evoke 5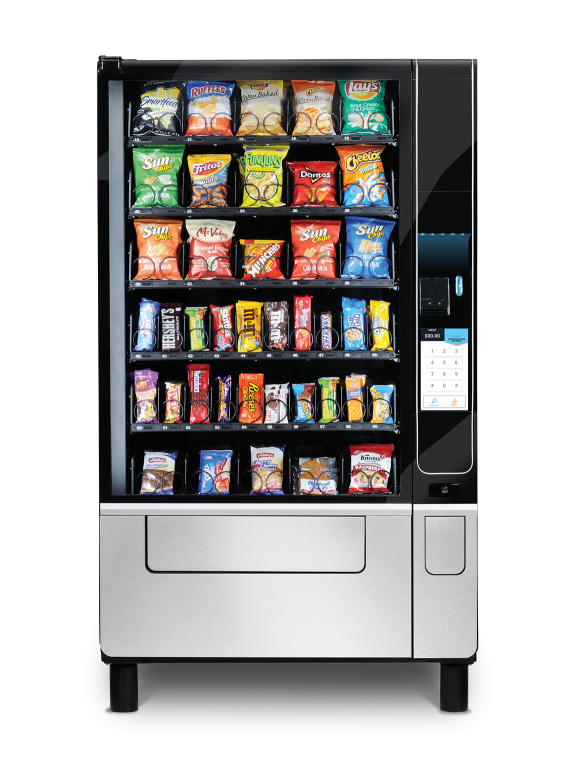 Overview
The Evoke Snack 5 brings together full-featured vending with a new sleek styling. A full view window with the brightest showcase LED lighting merchandises product like no other. Six (6) standard product trays provide up to 65 selections and give maximum flexibility to change quickly when consumers or market conditions demand it.
Featuring the largest merchandising window, most capacity and selections, and the latest in customer interfaces and payment system technology, the Evoke Snack 5 provides operators with the capability to generate more revenue from existing locations and secure new profitable locations.
Ideal for high traffic, high volume locations, the Evoke Snack 5 enables operators to improve operational efficiency, improve bottom-line performance, and support business expansion. With its large capacity of up to 528 items and 65 product selections, the Evoke Snack 5 provides maximum merchandising capability. Six (6) standard Flex Shelf Technology Steel trays and additional gum and mint tray option. Over 47" of vertical product space and adjustability for large size snacks.   
The Evoke Snack 5's modern design attracts and engages consumers with custom graphics and 10.1" iCart touchscreen (optional) featuring:
Shopping cart and single selections modes

Calorie display before purchase

Product browse mode

Advertising options for static and video content
Standard Features
Quality and Service
2 Year Limited Parts Warranty
Safety and Security
Control Systems
Full Sales and Accounting Features
Control Systems
Control Systems
USB Software Upgrades and DEX Downloads
Accessibility
Audio Interface for Sight Impaired Operators
Accessibility
Controls and Payment Systems at ADA Levels
Product Merchandising
Payment Systems
Coin Mech and Bill Validators
Consumer Interfaces
Sustainability
Power Managment Programming
Specifications
Evoke Snack 5
Selections

Up to 65 items

Capacity

528 Items

(210 Snack-Pastry/318 Candy)

Payment Systems

All Industry standard MDB compatible devices

Data Communication

DEX/UCS

Electrical

Requirements

Domestic:  115 VAC/60Hz, 1.2 AMPS

International:  230 VAC/50Hz, 0.6 AMPS

Height

72" (183 cm)

Width

41" (104 cm)

Depth

35.2" (89.4 cm)

Ship Weight

*564 lbs. (255.8 kg)

*Varies with tray configuration and options.