Greenlite is a turn-key cashless solution incorporating the latest in card & mobile payment systems, valuable web-based reporting and management tools to help make your vending service more profitable.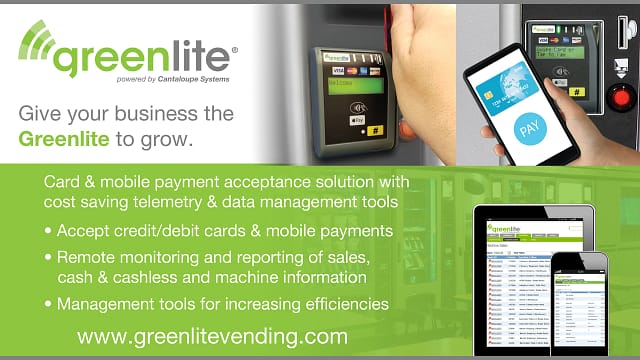 Sales and Inventory Tracking
Gone are the days of being in the dark about sales, inventory and status of your business. Our Teintelligent software allows you to view all sales transactions, any errors and current inventory status of any vending machine remotely.
As our lives become more digitally based, fewer and fewer consumers are carrying cash and coins. Instead, financial transactions via credit / debit cards and mobile devices are becoming more common.
What's more, cashless card swiping devices, mobile payment, and other digital payment options are predicted to overtake 'traditional' payment methods in the near future, making it a must have in today's vending market. In fact, simply adding a cashless device to vending machines has been proven to increase same-machine sales by more than 35% on average.
Greenlite Cashless is a turnkey cashless payment acceptance solution that offers the latest in credit card and mobile payment systems technology. With Greenlite Cashless you will increase revenue from your vending business by:
Not missing the cashless sale by accepting credit / debit cards and mobile payment
Selling more premium products with higher profit margins for operators
Reducing the operating costs of your vending business with remote management
The Greenlite Cashless web-based platform gives you a focal point for understanding how your vending business is performing every day. We are constantly improving the portal to add greater insight to your operations and allow you to manage your business more effectively.
And, for those using Greenlite Data, it is even better. The result of the combination is a set of powerful analytics to improve your business. Real time data from your cashless devices can streamline route efficiency by 45% or more.
With a comprehensive suite of management tools, Greenlite Cashless provides:
Remote management of planograms, advertisements and promotions
Cloud-based reporting, telemetry and data management tools
Accessible deposits that correspond to the cashless sales for increased accountability
Remote monitoring and reporting of sales (cash and cashless) and machine information
Make your vending equipment more profitable for you and more convenient for your customers today by implementing Greenlite Cashless.