Evoke ST5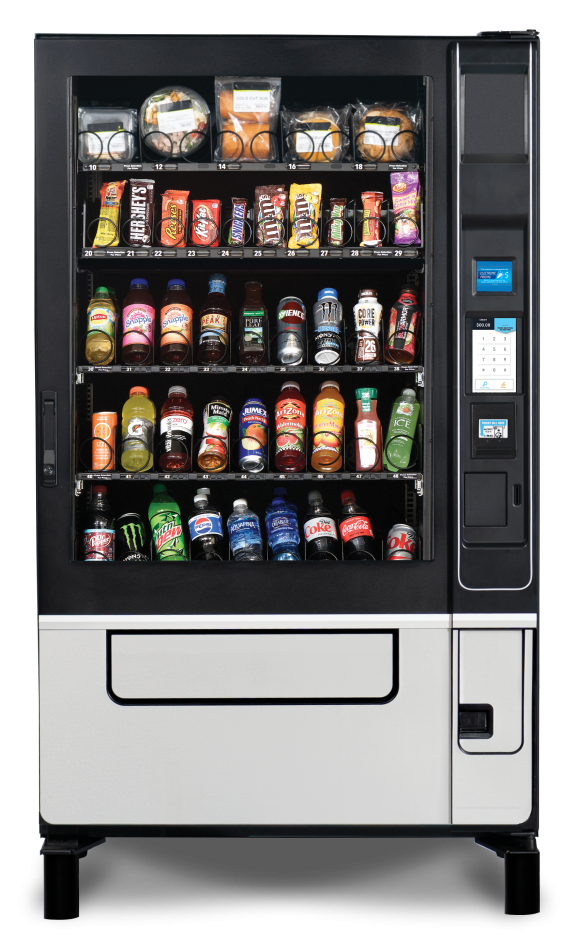 Overview
The Evoke ST5 vending machine is perfect for high-traffic locations. With up to 60 selections (standard configuration is 50 selections with five trays of up to ten selections per tray), this versatile merchandiser is capable of vending refrigerated food, snacks, and cold beverages with various package sizes and form factors such as boxes, cans and bottles.
With the single temperature feature of the Evoke ST5 you can vend a variety of refrigerated food and cold beverage products. As with all Evoke combo models, the Evoke ST5 is health safety programmable by selection, range, or row. Its clear soft coat glass provides a crisp merchandising experience through an unmatched level of transparency. If you are looking for a variable temperature merchandiser to vend refrigerated food, cold beverages and ambient snacks, the Evoke ST5 also comes in a variable temperature version – the Evoke VT5.
This combo machine brings together a sleek design and the latest in vending technology to make for a perfect vending experience for your customers. Its large merchandising display window and enhanced LED lighting showcases products for maximum visibility. In addition, it is fully ADA compliant and has an ergonomic user interface, making it user-friendly.
The Evoke ST5 comes with a standard braille keypad and a 3.5" full-color display allowing operators to display pricing information and nutritional information on the screen. Upgrade to the 7" full-color touch screen display to offer shopping cart mode to purchase up to three items in one transaction, a product browsing capability, and advertising options for static and video content.
There are many optional features to enhance your Evoke ST5 merchandiser. This merchandiser comes standard with PayRange, a leading mobile payment system. Plus, never lose out on a sale again due to payment acceptance limitations by adding an optional bill changer and coin validator, and/or card reader to accept debit/credit cards and mobile wallets. You can also brand your Evoke ST5 with a graphic wrap to attract customers.
An optional automatic controller/wiring harness kit allows heating of the soft coat glass, in order to eliminate condensation and fogging of the glass in high humidity locations. The automatic controller complies with applicable U.S. Department of Energy requirements and delivers energy savings by only activating when the humidity reaches a certain level and disengaging when the humidity returns to an optimal level.
Specifications
Evoke ST5
Selections
Up to 65 items
Capacity
Varies with tray configuration
Payment Systems
All Industry standard MDB compatible devices
Data Communication
DEX/UCS
Electrical Requirements

Domestic:  115 VAC/60Hz, 5.5 AMPS; International: 230 VAC/50Hz, 4.8 AMPS; With Heated Glass: 115 VAC/60Hz,

6.5 AMPS; International: 230 VAC/ 50Hz, 4.5 AMPS

Refrigeration
Super 1/3 HP, R134a or R-513a Closed System
Height
72" (183 cm)
Width
41" (104 cm)
Depth
38" (97 cm)
Ship Weight
*791 lbs. (358.8 kg) *Varies with tray configuration and options.