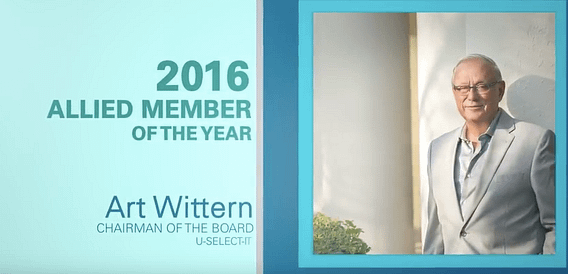 This year, the National Automatic Merchandising Association has chosen Art Wittern, Chairman of U-Select-It, a premier vending machine distributor,  as Allied Member of the Year. The award ceremony was held at the NAMA Industry Awards in April. What did it take to be honored as Member of the Year?
Leadership and Dedication

: Art Wittern has been in the field for 55 years as President and CEO of U-Select-It until 1990 when he transitioned to the position of Chairman–the third generation of his family to hold the role. He has been involved in NAMA for over half a century. His previous industry recognitions have included the 2008 Ernst & Young, LLP's Iowa/Nebraska Entrepreneur of the Year.

Integrity

:  USI facilities, under Art Wittern's leadership, helped make the Americans with Disabilities Act a reality in the workplace. Throughout his tenure, he has supported the growth and development of the trade through education of both lawmakers and consumers on current and pending legislation.  In addition, he has founded The Wittern Family Foundation and The Wittern Family Scholarship Foundation, focused on funding post-secondary academic financial support for children of USI employees.

Innovation

: As Chairman, Art Wittern took USI into the 21st century, by embracing technology for his customers and through market analysis, including glass front vending and the state of the art multi-zone frozen vending machine.
Art Wittern embodies all the best qualities in any industry, and the vending machine distributor field is fortunate to have his energy and knowledge at hand. For all the latest news about Art Wittern and U-Select-It, visit our blog. See the video here!