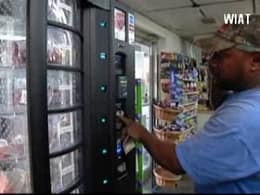 I'm all for new and inventive vending machines, but I don't think I can agree with a meat vending machine. This new machine is currently found in Alabama and goes by the name "The Smart Butcher." As the name implies, you're getting a fresh cut of meat and not just an already grilled chicken sandwich. This is supposed to eliminate the need to go to a butcher and it's supposedly much cheaper too.
You can use cash or a debit card to pay for your slab of meat. Choices include New York strip, ribeye, pork chops, and much more. You can find these vending machines in supermarkets and apparently sales are pretty good for one food store. They sell about 10-20 items per day. As long as the meat is fresh, I don't see the harm in doing this. But it just doesn't sit well with me. I'd much rather enjoy a tasty candy bar from a snack vending machine or an ice cold drink from a soda vending machine.
If you want fresh meat, order it straight from the butcher! It makes you wonder what crazy ideas they'll come up with next, at an attempt to make our lives easier. However, if I'm already going to the supermarket, I might as well walk a little farther back and pick up a package of meat.