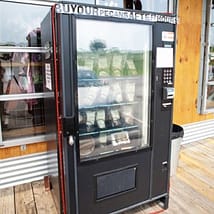 Last week I talked about how weird it is to purchase meat from a vending machine. Today's post is slightly less weird and a little more tasty. In Cedar Creek, TX you can purchase a full pecan pie for just a mere $17.50. The machine is stocked with freshly baked 9-inch deep dish pies…outside the retail store baking them. That seems a little odd if you ask me. I'd rather just go into the retail store and not have to deal with a vending machine. I guess they feel it's a time saver to just purchase it from the machine itself?
Besides an entire pie, you can purchase other pecan related products such as honey-glazed pecans, chocolate-covered pecans, and even pecan brittle thanks to the 15,000 tree pecan orchard nearby. Basically, if you enjoy this nut, visit Texas. A sign on this strange snack vending machine says, "Buy your pecans after hours." I can't say I've ever had a hankering for pecans at 2 am but I'm sure it does happen from time to time. At least you know the food is fresh from the farm right around the corner. Still, I can't help but find the idea a little unnecessary.
What's not unnecessary? Uselectit's vending machines for sale!