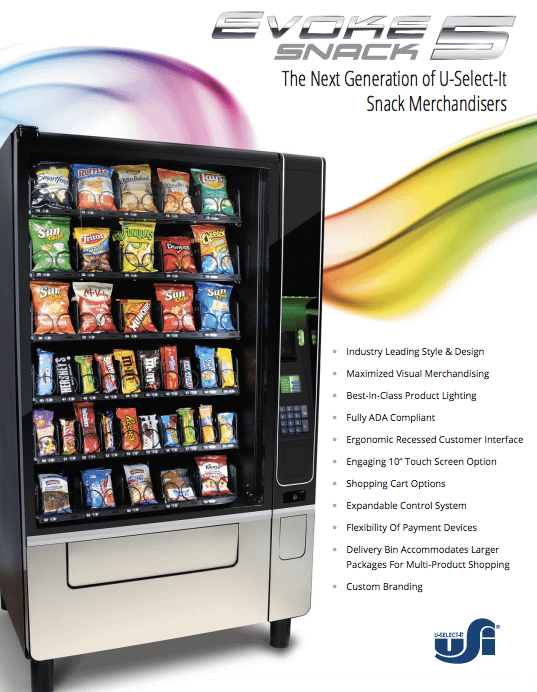 Let us introduce the The Next Generation of U-Select-It Snack Merchandisers: The Evoke 5
Featuring:
Best-In-Class Product Lighting

Product Flexibility

ADA Compliant

Payment Devices Flexibility

Improved Servicability

New Stronger Leg Design

Maximized Visual Merchandising

Industry Leading Style and Design

Full Featured Customer Interface

iVend 10 Guaranteed Product Delivery
Enjoy adjustable snack & candy selections, which are configurable to almost any package size for greater merchandising flexibility.
Thousands of products are now becoming ADA Compliant, with the Evoke 5 you get ergonomic controls, payment systems and delivery methods that conform to ADA guidelines.
Technology at your fingertips. You get the option of a 10" touch screen interface. The 10 inch full-color capacitive touch screen provides customers with a shopping native cart purchase experience including product calorie information.
The Enhanced iVend10 sensor system keeps customers satisfied and reduces service calls for misloaded product. Calls to the vending machine tech will be few and far between with this smart technology.
However you look at it, the Evoke 5 is a modern piece of engineering that encapsulates the forefront of our industry. Get in contact with us today to see if the Evoke 5 is a good fit for your location!
Backed by over 80 years of manufacturing and serving vending products, USelectIt currently stands as one of the most reliable names in the business. From snacks and sodas to lattes and cappuccinos, our vending machines for sale will leave an impression on your customers and keep them coming back. No matter what you would like to vend, we have an industry-leading machine for you.