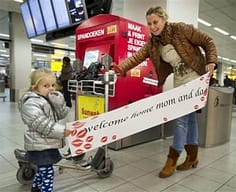 We're so used to only thinking about drink and snack vending machines, that sometimes these little intrigues from around the world startle us. But this is certainly not the first time, or the last, that we've talked about the interesting vending machines for sale around the globe. We're seen everything from glass breaking to umbrellas to bicycles.
Have you ever been eagerly awaiting someone at the airport, but alas, you have no sign to greet them with? There is a mob of people being let off the plane and you're uncertain they will find you in the crowd. Fear not! In Amsterdam's Schiphol airport that will never be a problem ever again because you can print out a large banner for your loved ones to see you. If you want to get really creative, and cheesy, you can even print out a sign that says "Will you marry me?" However, I don't recommend proposing in an airport.
Just choose the message you'd like, pick a font and a background, pay the good machine and you're done. If that wasn't cool enough, the banners are waterproof…in case it rains inside the airport. Clever idea if you ask me. What do you think?