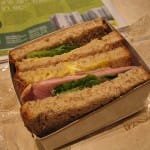 When it comes to food and snacks, customer buying habits are always evolving with the times. According to BusinessWeek, convenience store shoppers are buying fresh food more than ever, which marks a significant change in convenience stores' reputations as snack depots. The article reports that according to 7-eleven, fresh food sales have the potential to someday replace cigarette sales, which are typically one of the main sources of revenue for a store of 7-eleven's type.
What does all of this mean to the vending world? It is easier than ever to serve full meals via food vending machines, so fresh food can potentially enjoy the same growth in the vending world as it does in the realm of convenience shops. If you are the owner of a snack vending machine, now is a better time than ever to consider expanding what types of products you are offering your customers. While there will always be a place for quick snacks and refreshments, consumers are clearly expressing a greater desire for fresh sandwiches and soups than ever. If you are serious about growing your vending machine business, it is time to adapt accordingly.
Looking to stay on the cutting edge and vend satisfying food options to your client base? Browse our vending machines for sale today!