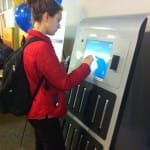 Even in an age where everything from smoothies to books are being purchased in vending machines, it is still hard to imagine something as heavy-duty as a computer being dispensed from a vending product. However, even that technological barrier has been broken, as made evident by a recent Mashable article.
According to the story, students at Drexel University in Philadelphia can now rent out MacBook laptops from a vending machine in the school's library. The machine operates 24 hours a day, eliminating the need for students to lug their expensive laptops to and from the library during late night hours. All students need to take out a laptop is their student ID card, which entitles them to 5 hours worth of computer use before they have to pay a $5 late fee. All laptops are charged and cleared of all data upon being put back in. The laptop vending machine is a fantastic solution for students who either do not have their own laptops or would prefer not to lug them everywhere.
Here at USelectIt, we love seeing any type of vending service that makes things easier for students. If you are looking to provide this same convenience at your school on the more traditional snack machine level, take a look at our vending machines for sale today!