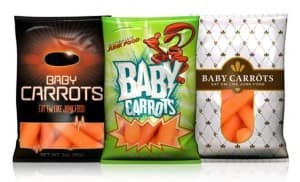 Move over, Cheetos, there's a new (or old?) neon orange, crunchy kid on the block: it's time for snack vending machines to make room for the latest kid-friendly taste sensation – carrots.
That's right, pretty soon, baby carrots will start appearing in school snack vending machines across America, as part of a multimillion dollar campaign by the baby carrot industry to market these Vitamin A-rich vegetables as snack food.
But this is no anti-junk food campaign. Baby carrots will actually be packaged like chips, to make them more appealing to school kids. Carrots will have seasonal tie-ins and sport slogans like "The original orange doodles," and there will be television commercials marketing baby carrots as sexy and futuristic. Baby carrot phone apps, as well.
It's all about making carrots hip, fun, and an attractive alternative to Doritos – using the very same marketing techniques that Doritos would use. It's hoped that in the future, baby carrots will be top sellers in vending machines, and kids will be heard begging their Moms for a packet of carrots after school.
Next time you pass snack vending machines, will you choose carrots over chips, chocolate and candy?