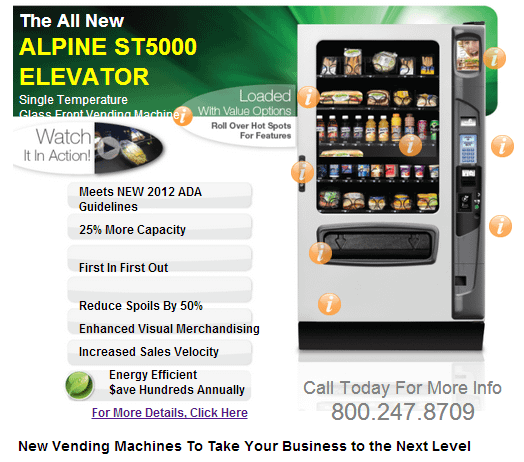 When vending machine owners are seeking out the most productive ways to sell products to their customers, one unit that stands apart is the new Alpine 5000 Elevator. It has features not found in other merchandisers, like a new elevator that gently dispenses more types of beverages, fruits, dairy products, salads, sandwiches and prepackaged meals.
The Newest Features
Everyone is concerned today with being eco-friendly. Merchandising units made by the Alpine vending machine manufacturer have the best energy efficiency in their class. They offer eco-friendly refrigeration, programmable shutdown modes and balanced airflow design.
There is no worrying about manual stock rotation, since this merchandiser features first in/first out loading. Those searching for reliable vending machines for sale will welcome the single or double temperature variations available, according to Vending Times.
Product Enhancement and Easy Choices for Customers
A touch screen allows customers to make their choices easily, and this merchandiser is even compliant with the Americans with Disabilities Act (ADA). The payment system, keypad and lighted product delivery box are positioned for easy access by all individuals.
Nothing enhances products like LED lighting, promoting more sales. A large window at point of sale displays all the various products available. The unit offers programmable health safety by row, range or selection, and the lighted keypad even features Braille identification. This machine can accept all forms of payment, including credit and debit cards, coins and cash.
Helpful Settings
The prices for items in the Alpine 5000 Elevator may be set by machine, row or selection. Owners can offer discounting at specific times of day, and programmable messages at the point of sale bring valuable information to customers. Token and coupon values may be programmed into the unit, with accurate bill and coin rejection rate counts.
Triple pane fronts allow the Alpine 5000 Elevator to display a wide variety of products for all types of consumers. It features foam insulation and optimal chilling efficiency, proven in extreme environments, making it a valuable choice among vending machines for sale.
Among drink vending machines, this unique merchandiser accommodates available steel beverage trays, capable of holding 60 packaged beverages. U-Select-It utilizes iCart software, so that new machines can be informative and appealing to the eye. VendingMarketWatch.com states that schools and other businesses will benefit from the variety of healthy items that can be included.
Conclusion
For economical workings and ecologically friendly operation, the Alpine 5000 Elevator takes care of vending operations for many perceptive vending machine owners and operators. When it comes to snack vending machines, owners will spend less time tending to their merchandiser and more time reaping the profits from it.