U-Select-It is excited to begin 2019 with a customer-focused redesigned website with enhanced design and navigation. The redesigned website is mobile-friendly and ADA-compliant featuring improved functionality and enriched content for visitors to learn more about U-Select-It, our equipment and services, as well as access interactive tools such as the Equipment Configurator and Marketing Resource Center.
"We are excited to introduce a new, refreshed website that will better serve our customers and better communicates our brand and offering," said Jim Chico, U-Select-It's Vice President of Global Sales. "The redesign allows customers to easily access the information they need and enhances our ability to connect with the industry through our digital channels in a way that we haven't been able to do in the past."
We cannot overstate how much we value our customers and as such, we believe it is important that ALL customers can access and enjoy our website. In this blog we will focus on the ADA compliance aspect of the new USelectIt.com. 
ADA compliance and web accessibility mean that people with disabilities can perceive, understand, navigate and interact with a website.   To ensure the new USI site accomplished ADA compliance, the Web Content Accessibility Guidelines (WCAG) 2.0 and 2.1, a set of guidelines for making websites accessible to all, were followed. The focus of WCAG 2.0 and 2.1 is to ensure that a website is perceivable, operable, understandable, and robust for those with impairments.
The Toggle High Contrast/Toggle Font Size plug-in ensures that USelectIt.com is perceivable and is equipped to serve the visually impaired with large font options and contrasting colors option. To enable this feature, just click on the toolbar on the left to navigate.  Additionally, images and non-text content contain alt tags so that it can be changed into other forms people need such as speech, large print or simpler language.  As a part of ensuring the site is perceivable, the site includes video transcripts for all videos that contain audio such as the video on our About page.
High Contrast/Large Font
USelectIt.com was designed to be operable by all individuals.  This includes making sure moving sections can be paused if a user needs more time and ensuring pages and sections are clearly labeled so users can decipher where on the website they are. During the site redesign, it was important to create a site that is understandable.  We realize that some customers are more comfortable reading in a language other than English and as such, ensured the language on the site is programmatically identifiable. If you look in the bottom right of your screen you will see a 'Translate' button which allows users to read the website in over 100 different languages!  In addition, we ensured that all areas of the website that require user input (such as contact forms) have ample instructions or 'hint text' included.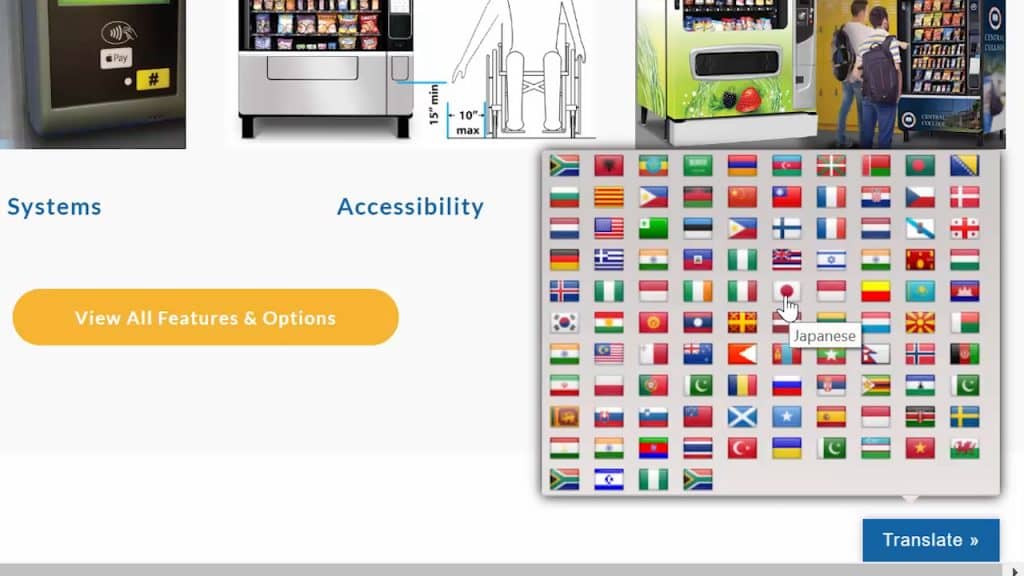 The new USI site is robust from a technical perspective by using standard HTML tags that are universally recognized by browsers.  The code properly validates to ensure assistive technologies can properly understand and render the content.  An example of an assistive technology utilized on the USI site is the iSpeech plug-in which translates text on the main frame of each page to audio to assist visually impaired individuals.  To utilize this feature, just click on the blue 'Listen' button in the site footer.  Below the button is the text 'English text to speech'. Watch the following video to view the ADA compliant accessibility options on the website and listen to the iSpeech plug-in. 
An initial assessment of the site by the Bureau of Internet Accessibility showed a 89% accessible rating and we are in the process of addressing any outstanding recommendations to drive our rating over 90%.  We are proud to offer this new ADA compliant site to our customers and are thankful so many clients trust us with their vending needs.
Be on the lookout for upcoming blogs about the redesigned website featuring the customer experience, new interactive on-site tools and resources, and how the site highlights USI products and services.