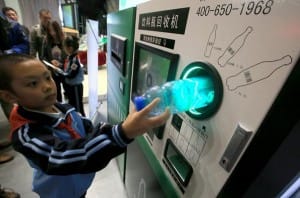 The concept of "reverse vending machines" is making waves throughout a variety of different communities, most notably in China.
In Beijing, commuters have begun using these reverse vending machines to offset the costs normally associated with public transportation. By placing plastic bottles into a specifically designed machine, they are then given subway credits that they can use for public transportation.
Many countries have long looked for a way to incentivize the act of recycling beyond just the fact that it does a great deal to create a cleaner and healthier global environment. Many marketing campaigns have been started to remind consumers that recycling ultimately help keeps their taxes as low as possible, which goes a long way towards putting money back in their own pockets. If less money is going to clean up improperly disposed of waste, it ultimately means that municipalities need to tax residents less for these services.
In the past, however, these types of public campaigns have done little to curb what is an overwhelming issue for countries all over the world. When you consider the "reverse vending machines" in China, however, you're getting the best of both worlds – you're creating a true incentive program to entice people to get out and do their part to help the environment and they get something tangible in return.
When a plastic bottle is inserted into the vending machine, the user can receive a subway token on their associated payment cart. There is no limit to the total number of products that can be recycled – if you bring five, ten or even twenty bottles to a vending machine, you get the same amount of credits in return.
A specialized scanner embedded in the machine determines how much each bottle is ultimately worth. Bottles can range anywhere from five to 15 cents depending on the type and size. For customers who have no use for public transportation cards, they can also redeem the credits for extra minutes on their cellular telephone plans.
Judging by the success of this trial run, it is clear that more of these reverse vending machines will be rolled out in locations all over the world. Many vending machine manufacturers, including U-Select-It, have taken notice. U-Select-It.com also has a global network of distributors at its disposal, offering a vending machine for sale in places from Africa to Asia to the Caribbean and everywhere in between.