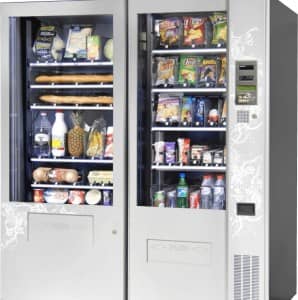 An apartment building complex can cater to its tenants by incorporating vending machines into the lobbies. Vending machines can provide a wide variety of necessities for apartment dwellers who do not have time to visit the local grocery store. The time of plain vending machines that simply hold candy and chips is over. A recent vending machine manufacturer developed an idea that could bring additional revenue to apartment building owners and vendors. The machine allows apartment tenants to obtain essential items from a nearby location.
The More the Merrier
The development of the new vending machines does not eliminate the need for the old-fashioned snack vending machine or drink vending machine. Instead, it gives the apartment complex owner additional offerings for his or her faithful residents. Tenants who have access to commodities such as vending machines are likely to extend their leases instead of searching for alternative living quarters.
About the Convenience Machine
The "convenience" machine line offers food items that almost every apartment dweller needs at some point during the week or month. The idea is for the machine to give the resident the additional time that he or she needs for full shopping preparations. The convenience line of goods offers the residents items that they can use to hold themselves over until the next visit to the grocery store. Some of the main items that the line offers are eggs, milk, ground coffee and baby diapers. A man named Jason Moyal created this innovative and highly convenient vending machine arrangement.
Moyal is still in the process of trying the machines in Vancouver, but their success will lead to a widespread acceptance of such vending machines. Apartment building owners will want to consider adding one of these delights to their complexes. The self-employed vendors will have yet another opportunity to earn well in the vending machine business.
Possible Problems with the Machines
Some people have posed questions about the freshness of perishable items inside such vending machines. While the concern is a valid one, Moyal designed the machine to prevent the items from perishing. Furthermore, his company has received a green light and the business permits to operate in Vancouver.
Apartment building owners all over Canada will want to try the new vending machines if they are a hit in Vancouver. They would provide much relief to people who live in extremely cold areas. People who live in towns that get below 30 degrees in temperature would rather walk to a lobby in the apartment complex than face the fierce cold weather and visit a grocery shop. The vending machines are a win-win idea for a large group of people. Apartment complex owners will want to keep an eye on the project's success in the near future.