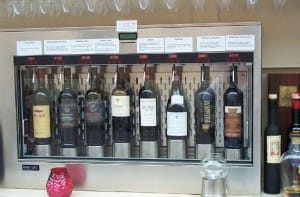 For the last year folks in Pennsylvania have had a strange option when it came to buying their wine. In that last year they could get bottles of wine in snack vending machines, well not "snack" vending machines but snack-style vending machines. The experiment appears to be coming to an end due to a contractual dispute between the local Liquor Control Board and the contractor in charge of the machines.
The contractor seems to feel the experiment did not succeed but the local liquor boards seem to disagree and expect a payment of about $1 million from the contractor. As a result, the availability of wine in soda vending machines seems unlikely to expand beyond PA's borders anytime soon. This is a shame because for my money a wine vending machine could make wine purchase a more convenient and enjoyable purchase. It would certainly help wine give beer a run for it's money.
It is too bad that bureaucratic wrangling would become the fly in the ointment as far as wine vending machines go, though in the end it is not surprising. Local alcohol control boards through out the country exercise a large amount of control over the specifics of distribution and will rarely give in to a retailer.