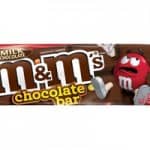 Ever since their creation in the 1940s, snack lovers around the world have been enjoying the delicious mini bites of chocolate known as M&M's. And while chocolate addicts have enjoyed several M&M variations such as peanut and pretzel, fans of this snack are in for an all-new surprise when they check out their local snack vending machine. According to Vending MarketWatch, this age-old form of coated chocolate is finally going to take the form of a classic candy bar.
The brand just officially announced the "M&M's Chocolate Bar," which is exactly what it sounds like–A milk chocolate bar peppered with everyone's favorite colored chocolate candies. The bar has a suggested retail price of $1.09 and should be finding its way into your local vending machines by may. According to the report, the new candy bar did well during testing, and could easily become a favorite alongside its classic, peanut, and pretzel varieties.
M&Ms have long been a staple of snack vending machines everywhere, and fans of the treat are likely excited to experience them in an all-new way this spring. As the weather gets better and more people hit their local malls and convenience stores, we expect the new M&M bar to soar in popularity. Will you be trying it out?