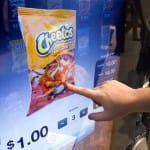 It was an exciting week for the world of vending, but the NAMA OneShow has officially concluded. This Vegas vending convention celebrated the latest innovations in our beloved vending machine business, and news outlets all over have put in their 2 cents on the event. The folks here at USelectIt were delighted to see our name in the news recently, as our vending booth made NAMA headlines.
VegasInc recently highlighted some of the most exciting inventions on display at the NAMA OneShow. Among the creative vending machines put out for the public were the Khroma Beauty Kardashian makeup dispenser and Pepsi's motion-controlled prototype, which uses Microsoft's Kinect functionality to allow customers to essentially turn their purchasing experience into a video game. What delighted us most, however, was seeing a huge picture of the diji-touch snack vending machine from our very own booth at OneShow! NAMA and the OneShow are two parts of the industry we are honored to be a part of, and we are beyond excited when we get to share news space with the likes of PepsiCo and Fastcorp.
While OneShow was quite the exciting event, you need not go to Vegas to experience the future of vending. Simply browse our vending machines for sale and you will surely find something that suits your business!